Space-saving techniques for Hong Kong's small flats all part of the service for charity's home improvement project
Project Space has benefited about 240 households over the years, and is supported by Operation Santa Claus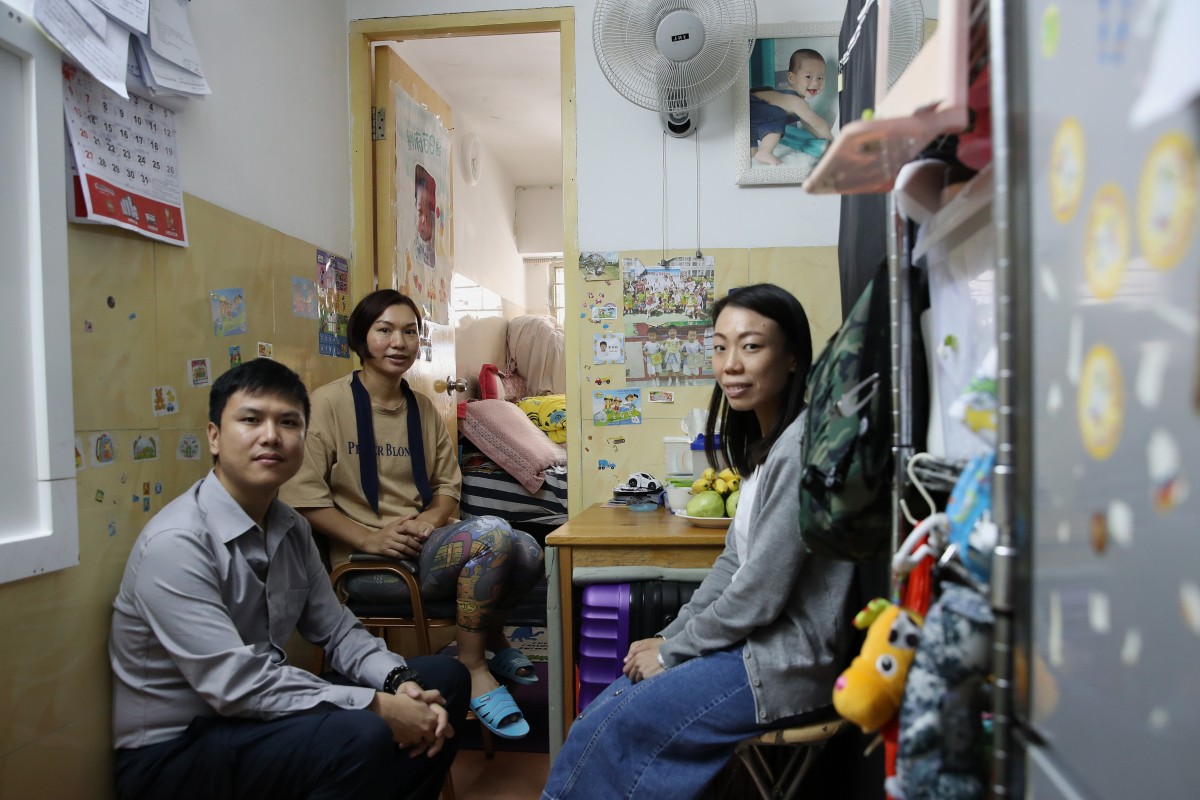 Frank Yau (left), director of Project Space, single mother Chen Xingyan, and Mandy Wong, project manager for Project Space, in Kwun Tong. Photo: Winson Wong
For Chen Xingyan, who lives in a subdivided flat in a run-down corner of the Kwun Tong district with her two young sons, a wall-mounted folding table has come in very handy.
"It's our dinner table. It's also my kids' desk, on which their homework materials are placed," the mother of two said of the chic shelf, which measures 60cm by 90cm and is in the living room in her home.
"When folded away, it becomes a large sketch pad as well as being a picture frame," she said, noting that her sons, aged five and two scribble on it.
Chen, who moved to the flat with her children after her husband died in 2016, said the table had allowed some much-needed extra space for the family.
The piece of furniture was tailored to the narrow one-bedroom unit, whose total floor area is about 160 sq ft (14.87 square metres).
It was part of the volunteer service provided by Project Space to improve the family's living conditions.
The charity's "Home Improvement Project", which has benefited about 240 households over the years, is supported by Operation Santa Claus, the annual fundraiser jointly organised by the South China Morning Post and public broadcaster RTHK.
Frank Yau Ka-lok, director of Project Space, said his team planned to help out 60 to 120 underprivileged families in the coming year with new funds provided by the festive campaign.
It was the third time the organisation has been named as a beneficiary.
Founded by a group of professionals from multiple disciplines in 2011, the charity visited residents in small subdivided flats, public housing units and squatter huts across the city, and helped the needy repair and replace broken household appliances and furniture.
Yau said people living in inadequate housing often faced a range of health and safety issues caused by the cramped conditions.
Healthy eating and balanced diet served up by Sham Shui Po's Food Lab
His volunteer team responded to their requests for help by providing space-saving reorganising services.
"The demand is huge. We received 10 to 15 requests per month on average," he said.
He said his team, composed of three full-time employees, 10 part-timers and 10 volunteers, attached importance to creating a healthy and safe environment for children's growth.
"We want to help children realise their full potential, so that they can contribute to society in the future," Yau said.
The organisation also trains young volunteers to take part in its work, with a view to fostering a greater sense of social responsibility among young people.
"We organise volunteer service teams to connect underprivileged children and their families with the community," Yau said.
Hong Kong teens receive empowerment boost from Operation Santa Claus
He said Project Space, which aims to help build a harmonious society, had taken notice of the challenges faced by members of ethnic minority groups in Hong Kong, including poor job prospects.
The organisation runs carpentry and design workshops for interested secondary students, many of whom are members of ethnic minority groups, in the hope of enabling them to discover their own strengths and pursue a wider career path.